Why choose us

15+ years of rich experience in production of marine fender systems & mooring systems.
Jerryborg offer 24months warranty for rubber products

All of our high quality products could be offered with CCS, GL, KR, RS, RINA, DNV, ABS, BV, LR certificate

You can get a Visualization Report for all product before delivery

We do full inspection to all products from raw material to delivery process.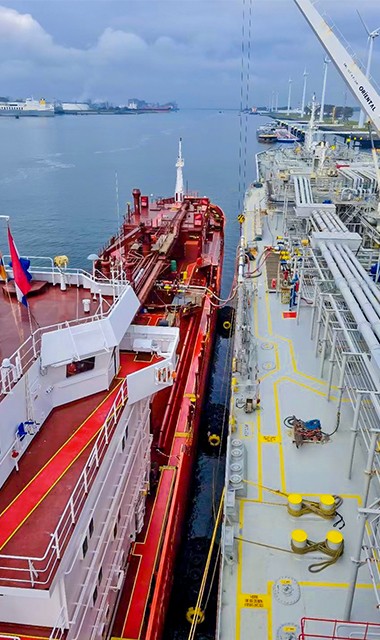 Product Category

ANCHOR REPUTATION, LINK FRIENDSHIP
our Solution

Every order is an opportunity for us to keep progressing and gain more expertise & experience to better serve our clients.
OUR PROJECTS

Engineering advantages means that our partners can be confident in expecting the best from us in all areas.
Based on your detailed purchase request, we will provide a quotation within 24 hours.
Testimonials

Our rich experience has earned a good reputation as a dependable partner in the waterways markets, harbors, international ports, etc.
I'm late in sending this, but wanted to thank Jerryborg Marine for the great job they did on the pneumatic fenders that they fabricated for me. They work perfectly and serve a long time. Very glad I found them.

Deepark-

Dolphine Rubber Industry Pvt. Ltd

The guys over at Jerryborg Marine not only provided quick estimates, an honest timetable, and professional courtesy, but also quality work that exceeds their fair pricing.
I recommend them for anyone's next project.

Thanh Dong-

Vietnam Ecomarine Technology Co., Ltd

High quality work and easy to work with. The service is outstanding, I couldn't ask for better quality. Great communication and always able to solve any problem that arises.

Ender Yalcin-

Mavi Deniz Co., Ltd

I choose Jerryborg Marine because I simply could not find any other provider that offered all the marine products I needed under one platform, such as pneumatic fenders, anchors, chains, steel wire ropes, shackles. They can quote prices in short time and deliver very fast.

Alessandro Bitocchi-

PSG AB

The quick prototyping capacity of Jerryborg Marine is amazing for marine casting parts and forging parts. their designer is so excellent which can make my designing idea into reality all the time. If you have any custom metal parts, Jerryborg is a good choice.

John Uremovic-

Australia Offshore Pty Ltd

I have a problem with products from another vendor. The engineer of Jerryborg Marine is very enthusiastic and helps me a lot to solve the problem. I really appreciate their professional work and experts team.

Peter Smith-

American Offshore Rentals INC
You will find yourself working in a true partnership that results in an incredible experience,and an end product that is the best.
What is the advantage of pneumatic fenders compared to traditional fenders ?

Answer:

1.Safety and Reliability

Yokohama Type Pneumatic Rubber Fenders are constructed of several layers of strong tire-cord, and are thus resistant to pressure and cutting. The safety factor adopted in the design of this fender is based on accepted theory and has been proven by extensive experimentation....

More details
What is standard sizes of pneumatic marine docking rubber fender ?

Answer:

The Docking Pneumatic Rubber Fenders are available in the following sizes, which are generally expressed in terms of diameter by length..

More details
What is the basic construction of pneumatic rubber fenders ?

Answer:

The Floating-type Yokohama Pneumatic Rubber Fenders are kind of a cylindrical air bag with hemisphericalheads at both ends. Basic body construction of this fender consists of an outer rubber layer, cord layers and an inner rubber layer. All of these are vulcanized together, and then proven by hydraulic pressure test..

More details
How to install Yokohama type pneumatic rubber fenders ?

Answer:

Installation Methods

At both ends of the fender, first shackles, then swivel joints, followed by a further shackle should be installed. A guy chain or guy rope is secured to the outer shackle. The swivel joint prevents twisting of the guy chain or wire..

More details
IALA Marine Special Mark Buoy Maker Navigation Buoy

Jerryborg Marine designs, manufactures in China, and sells online navigation aid equipment for a worldwide market and is specialized in marine marker buoys.

2019/06/02

Jerryborg Marine Installed New Floating Foam Fender to Doblin Port

Jerryborg Marine foam fenders will never burst, and are unsinkable - even if damaged beyond repair. This gives the operator great peace of mind when it comes to ensuring both vessels and berthing facilities are protected at all times.

2018/03/07

Yokohama Pneumatic Fender

We supplied several sizes of yokohama pneumatic fender to Venezuela. 50Kpa 4.5*9meters floating pneumatic rubber fender for offshore drilling platform proection.

2017/09/05